Shen Yeong Co., Ltd.-- Hex-key wrenches, screwdrivers, L-shaped socket wrenches, gauges
2009/01/14
Shen Yeong Co., Ltd., sited in Taiwan's central county of Taichung, has been specialized in manufacturing auto repair tools.

Many years of dedication to the field has seen the company accumulate seasoned knowledge about development of practical, useful auto repair tools and related kits, including hex-key wrenches, screwdrivers, L-shaped socket wrenches, precision gauges, spark tune-up kits, telescoping magnetic pick-ups and inspection mirror tools.

Success of Shen Yeong's auto repair tools is attributable to its conscientious adherence to quality, which helps the company to earn a solid name among customers in the sector. Also, the company has been committed to prompt delivery and competitive product prices, in an effort to build mutually beneficial partnership with clients, as a reliable OEM (original equipment manufacturer). (SC).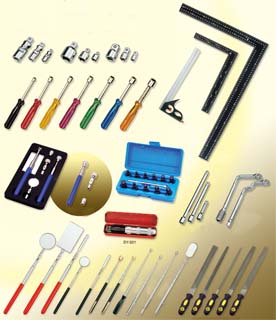 Shen Yeong Co., Ltd.
No. 635, Dingtai Rd., Wufeng Shiang, Taichung County, Taiwan
Tel: 886-4-2333-8939
Fax: 886-4-2333-9734
Email: shenyeon@ms75.hinet.net